Hello Everybody,
This year's Colorado and New Mexico Mule Deer archery season opener was an extra special event for me. One reason was because I had not seen my eldest son, Barron, since we dropped him off at the Air force Academy on June 26 for basic training. This was Parent's Weekend, so my family and I were able to pick him up for a little mule deer and elk hunting. The second reason, I will get to later.
After leaving the Academy, we traveled to a ranch in Northern New Mexico called Rancho Lobo. We arrived on Saturday, August 30, the opening day of both Colorado and New Mexico deer and elk archery season. As it was late when we arrived, our first day of hunting was Sunday morning.
Sunday, Aug. 31
5:30 AM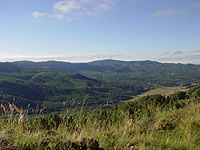 Barron and Trevor, my middle son, were all up and getting ready to head out. I had Mule deer tags for both Colorado and New Mexico, and Barron and Trevor were going to be hunting elk in New Mexico. We all wished each other "Good Luck" and headed out.
I had a one hour drive to reach a point in Colorado where I planned to hunt a series of avalanche chutes where I had seen big bucks in the past. After parking the Isuzu, I hiked, bow in hand, over a series of small ridges to get within site of the chutes. Timing was good as the sun was just beginning to paint the upper reaches of the mountain with the pink hues of early morning. I was about to be in position for some serious glassing.
7:25AM
As I topped the last ridge I was greeted with the sound of the first elk bugle of the season! Below me, and about 300 yards distant were a group of cows calves and young bulls, the largest of which was a 5×5. They were chasing about and generally acting in a very relaxed and playful fashion. In a week or two the attitude of these bulls will change when the first cows begin to cycle into estrus.
Many cows were bedded up in the chutes where I expected to see the mule deer. I enjoyed watching the antics of these elk, particularly the calves, of which there were many, as I carefully glassed the individual chutes for a big buck.
As the sun further illuminated the slopes, I was able to pick up four different mule deer, two bucks and two does, in my binoculars, but none of them were the monster buck I was hoping for. I stayed late into the morning hoping a big buck would materialize, but to no avail. I finally admitted defeat in the early rounds and decided to try another tactic.
9:15AM
Below the avalanche chutes was a shallow lake, and below that, a series of benches, draws, and Aspen groves, where I had also seen mule deer in the past. I began a decent which took me through he center of this terrain. I picked up an elk trail full of fresh tracks and began side hilling slowly, again hoping to bump into a big buck. After a few hundred yards I did indeed find some bucks, two to be exact, but neither were what I was looking for. I was able to pass undetected above them as they fed in an Aspen grove forty yards below.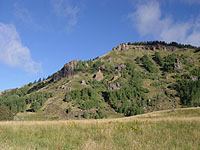 That was my last sighting of the morning, except for a coyote, and I finally made it back to the vehicle at about 11:00AM.
Once back at camp I found that both Trevor and Barron had exceptional mornings, as each hunter was in on shootable bulls (ranch rules dictate that a bull must score 280 or better to be a shooter), and Trevor actually launched an arrow that was deflected by an unseen branch! So far, each of us considered the morning a big success with lots of sightings and good action.
After eating lunch we all headed to our tents for some much needed sleep so we would be ready for the afternoon hunt.
4:00 PM
Again we wished each other luck as we headed out, the boys to new areas on the 8500 acre ranch, and I, to a location on the ranch where a big buck had been sighted the previous week.The description of this buck was that of a 5×5 with a kicker off his right G-2 point. Aaron Ames, the ranch biologist guessed him at a gross score of 180, which was more than big enough for me.
I was able to drive on a logging road to a location very close to the place where the buck had been seen, a welcome treat after the morning's tour through the thin Colorado air at 10,000 feet. After getting the wind right, I moved slowly through the mixed Conifer and Aspen forest. There had been some Aspen timbering done in July and lots of new young Aspen stems were present, obviously what was attracting these bucks to the area.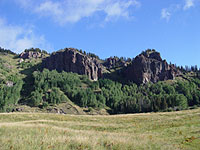 It wasn't long before I spotted the shapes of deer moving ahead of me. When they finally moved through an opening I could see that neither animal, although both bucks, were the one I was looking for. These bucks appeared to be two years old, with nice basket racks, one with nine points and the other with ten. Clearly in a few more years these deer were destined to be quality trophies with exceptional racks.
After moving completely through the habitat where the big buck had been seen, I dropped down and headed quickly back to the vehicle to try another location before the days hunting was done.
6:10 PM
Once back at the Isuzu Trooper, I made my way to another location where again I parked, grabbed my bow, and headed out. This time, I would be walking down a logging road looking for bucks that were feeding after leaving their beds further up the mountain. As I move slowly along this road I bumped into a group of elk cows and calves. I had to lay down on the road as the herd passed about fifty yards in front of me, making their way down the mountain, no doubt to the large meadows below. This event caused me a fifteen minute delay which, of course, was making me very anxious. I could not afford to spook them as that could alert any deer feeding further along this mountain road.
Again I began my advance, taking several slow steps then glassing the forest ahead. After several hundred yards I spotted what I believed to be a buck about 150 yards ahead and below the road. With its head down I moved forward at a slightly quicker pace. After I had covered about twenty yards, the animal raised its head and I froze. Even without the binoculars I was fairly certain I was looking at the buck I had been told about. When he dropped his head I raised the glasses and waited for him to again raise his head. One look was all it took! He was everything he was described to be and more.
Now with about 45 minutes of shooting light left, I began the advance that I hoped would bring me within bow range, undetected. He was with one other buck that appeared to be about a 155 gross score. It was tricky to walk in a crouched position, being careful to stop each time one of the bucks lifted his head. I was able to crowd the right side off the logging road, keeping my visibility to a minimum, as the hill dropped of slightly below the road. My excitement built with each step I took towards the two unsuspecting bucks. The wind was in my face and at about sixty yards I began to get that feeling I get when I see a plan coming together! I could not detect any surprises in the latter part of the stalk, so I just concentrated on moving silently to within range of the biggest buck.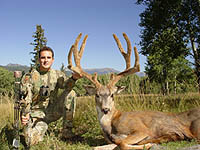 The last five minutes of the stalk were the most nerve racking, but finally I found myself directly across from the huge buck. I recall thinking how much bigger he looked up close. With the slope of the hill and the length of the vegetation it was impossible for me to actually put the cross in my Bushnell rangefinders on the deer, so I did the nest best thing. I found a tree just to the deer's left and a few yards towards me, and took a range reading to that. Then, I found another tree behind the deer and took a second reading. The first tree showed to be 39 yards and the second tree, 46. I then drew my bow from a crouched position and slowly began to rise. As I came completely out of my crouched position the big buck raised his head, but luckily he still had not seen me! I sighted with my forty yard pin slightly high, steadied my bow, and released the arrow.
It was one of those times when everything felt right, and from the moment the arrow left the Trophy Ridge Drop Zone rest, I knew the buck was mine! Upon impact of the arrow, the buck jumped in the air in A manner characteristic of a heart shot. I watched him run at full speed until he was out of sight down the hill. At this point I was really wishing I had a cameraman, but sometimes it is nice to be in the mountains completely alone.
I took just a few moments to catch my breath from the exhilaration of being so close to such an outstanding trophy animal, and then because of fading light, began to slowly move towards the spot where he had been standing. As I approached the spot I could see his tracks where he lunged at the moment of arrow impact. Again slowly I advanced to the next set of tracks. After thirty yards, a heavy blood trail had developed on the right side (down hill/exit side) of the buck's tracks. As I continued to follow the tracks my excitement was increasing in direct proportion to the increase of blood along the side of the deer's trail. Finally, after about seventy yards, I spotted his rack first and then the deer, where he piled up against a downed tree. What a magnificent sight!
I moved downhill to the buck and immediately grasped his massive antlers in both hands. Only my second buck to have taken with a bow, his velvet rack was extremely symmetrical, and all points were well developed. His body condition was outstanding after a summer of abundant rainfall and ample quality browse.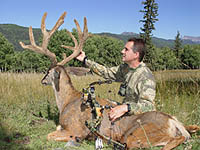 I spent as much time as I could with the buck in that special window of time that exists just after finding your trophy, then I had to return to the vehicle to get the radio and call for help in bringing my buck out of the woods.
This morning, after caping and quartering him, we put a tape to his rack. All the totals added up to 194 gross B&C points, ten points more than what I expected. Barely visible are two matching kicker points coming off his back, or G-2 tines, totaling six inches. This is one buck where there were no "if only's," as he truly had it all!
The best news is I still have my Colorado tag and will be back at it Tuesday afternoon. Stay tuned for further updates!